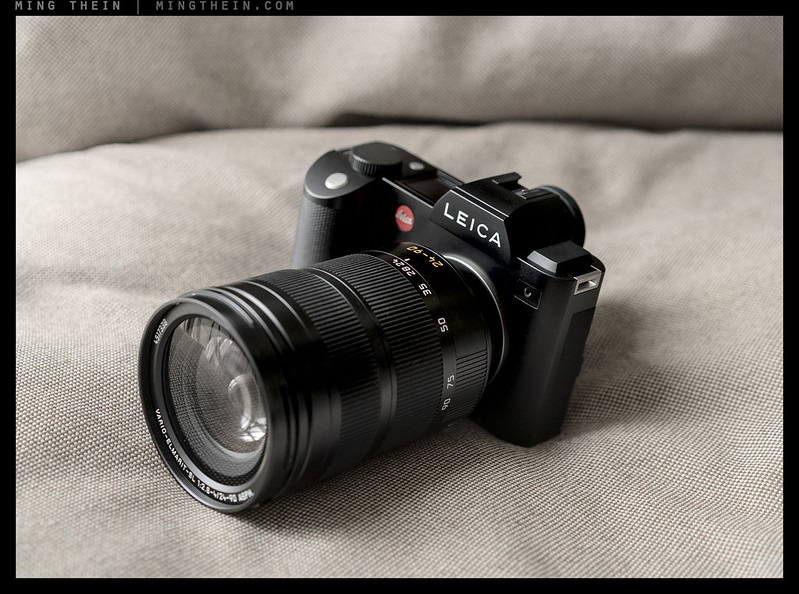 Minimalist Leica with a hint of several other cameras' DNA. Doesn't look that big, does it?
What would you get if you crossed a Q with a T and an S?
Not an unpronounceable algorithm for a consulting firm or a new Cadillac, but the 2015 Leica SL Typ 601. The SL is probably closest to an S (S Light?) and really does blend the choice bits of the DNA from each these three cameras into something that takes the fight to the Japanese brands – albeit with a few caveats.
Notes: I've had a few days with a final pre production SL and 24-90 thanks to Leica Asia Pacific, which is enough to form some preliminary impressions but further testing of a production sample will be required to evaluate all elements of the performance envelope. Sean Reid also has additional testing. More images from me with the camera can be found in this flickr set, and you may recognise some images from the Paradise Lost series. Images were processed using Photoshop Workflow II and The Monochrome Masterclass.
The lens is pretty big, though.
Let's get the headline specs out of the way: 24MP, full frame, Leica T mount, mirrorless, 4.4MP EVF, touch panel, three new lenses – a 24-90/2.8-4 ASPH, a 50/1.4 ASPH, and a 90-280/2.8-4 APO. The SL will of course take T lenses (in APS-C crop mode), M, R and S lenses via adaptors, and Novoflex also makes options for other mounts. It has external UI elements from the S – four button shortcut keys around the monitor, power switch top left, top panel TFT, modal soft dials and push-to-switch exposure modes – the mount and design influences from the T, and guts from the Q on steroids.

That responsive little joystick under your thumb on the top plate has to be one of the best UI features in recent memory.
Data throughput is incredibly fast: it'll shoot highest quality JPEG at 11fps unlimited and supports UHSII speeds – to two cards. 11fps DNG is also supported (14 bit uncompressed, 36 shot buffer with a 95mb/s card) and some serious video options – Cinema 4K (super 35 only) at 24fps; UHD at 30fps; 1080p at 120fps (!) and both 10-bit HDMI output and log gamma recording. You can even set safety gridlines for framing, and there are audio in/out ports – though via an adaptor only. The whole thing is weather sealed (including lenses) and runs ISO 50-50,000. It is unclear if ISO 50 is native or not, but it is very smooth and doesn't appear to compromise dynamic range – good, because you can't set a minimum auto-ISO threshold (it defaults to 50). There's also built in GPS, Wifi and a companion app. A vertical grip is optional, which will accept an additional battery. In many ways, it's more like a mini-S007 than anything else – including price, at $7,450 for the body and a further $4,950 for the 24-90 (!)

Surprise! The whole thing is huge: the lower camera is a D800E with the 24-120/4 VR, and the top right is a Q. The lens is a 82mm thread monster; after seeing standalone images you expect the whole thing to be perhaps 80% the size it actually is. Weight is significant, too.
There are a lot of neat touches, too: under your thumb is a 4-way joystick for very fast AF point selection and zoom (assuming you don't feel like using the touch screen for AF); the battery has a built in door like the T and the top panel LCD shows much useful information depending on the mode you're in – including near/far depth of field information like the Zeiss Batis lenses. It also shows time remaining for longer exposures – though not noise reduction time remaining. That same top panel LCD means the main LCD can be off unless it has to be, saving power. (Sony could learn a thing or two here.) The shortcut keys around the monitor are customisable for functions of your preference, and there's another shortcut key on the front near the lens mount and on the top deck next to the video button.
The first thing you're going to notice about this camera is the heft: everything is larger and heavier than expected. It's a solid lump of metal with no rattles, squeaks or thin feeling sections; gaskets on this thing are thicker and more extensive than my supposedly 10m waterproof Sony compact. In shooting configuration with the 24-90 mounted, you're looking at about 2.1kg. The bare lens is about the size of an Otus 55 with the hood mounted. This of course has a knock-on effect on ergonomics: though the grip is substantial, it is too straight and not sufficiently contoured for you to support the camera's weight comfortably. The only way to shoot this combination is by supporting the lens in your left hand. I honestly didn't find the grip comfortable, and landed up with sore fingers and a claw after a day of shooting it. I suspect that balance will be much better with M or R lenses, but then you lose AF and IS.
The second thing you'll notice is the EVF – for all the right reasons. It's easily the largest, brightest, most detailed, most fluid EVF I've ever seen. It makes the Q and A7RII look like drinking straws by comparison. The refresh rate is blazingly fast and there is almost no lag to both image and shutter release – I found it fairly easy to time human action precisely without having to consciously time for lag (as I would with the A7RII). It also has an almost instantaneous shot-to-shot blackout time, much like the Q. There are also sensible options for monitor/EVF prioritisation: all one, all the other, or auto switch (with adjustable sensitivity) – I wish the Q had this option. Switching between the two is almost instant. The focal plane shutter's action is fairly silent and damped, though a well-sorted mirror mechanism such as the D750 isn't much louder. The button itself is another story, however – it's too stiff and the break point not quite where you expect it to be; weaker springs (again, a la Q) would greatly improve this.
One of the things I liked very much about the camera was how many practical ways there were to work with it – you could leave it in AF and matrix; you could use the joystick with a coupled spot meter to select your AF point and half press on the shutter to focus/lock focus; you could also leave it in manual focus and have the joystick/joystick press to be focus point move and AF-ON at the same time. Any of those options worked well in the field, and the speed of moving the points around is something the other manufacturers could take a hint from.
However, there are some catches. Many critical ones, in fact:
There appears to be no way to assign the redundant dial in A or S modes to direct exposure compensation; you have to either go into a menu or press and hold one of the shortcut keys.
There is no way to return the focusing point to the centre quickly (the Q does this automatically when cycling power)
Magnification in MF mode requires multiple presses of a shortcut – there should be an option to use the joystick to select the area, then go to a preset magnification level with one press in
I couldn't find an option for automatic magnification when turning the focusing ring – only peaking
Exposure clipping warning is linked to the histogram: this blocks off the top left corner of your frame, and isn't translucent enough to see what's going on behind it
Long exposure NR cannot be disabled, and the entire camera locks up while it's taking place – including for setting changes
You have to shoot DNG+JPG to get a representative 100% view to check focus, and the one press zoom goes to the centre not the area under the focus point
Finally, the power switch is in the wrong position – you need to shift your left hand position to turn it on (top left) before returning it to under the lens to shoot, which slows you down further.
The good news is that they can be almost entirely fixed in firmware and I don't think my unit was quite final yet (though running FW v1.0); the bad news is that we still haven't seen a firmware update for similarly minor bugs in the Q – and some things behave 'correctly' in the Q to begin with.
All of this is antithetical to the whole gestalt of the camera – which is really one of speed. (I'm even more surprised because so many of these things were spot on with the Q.) It's pretty much instant go when you turn it on; shot to shot speeds are lighting fast, playback is fast, magnification almost instant (I'd say they've almost caught up to industry benchmark Nikon here, though you still need to shoot DNG+JPG to see a representative preview) and autofocus was really blazing – possibly even a hair faster than the Q. It didn't feel any slower than the E-M5II or E-M1 either, which are also speed demons. More importantly, speed and accuracy appear to be maintained even in very low light. In fact, I think it's quite possibly the fastest focusing mirrorless camera in low light, period – and faster than some DSLRs, too. Light levels have to get very low indeed (think 1/10s f2.8 ISO 3200) before it starts hunting. Before anybody asks me about tracking, I didn't have sufficient time to test it meaningfully. Aside from firmware and menu bugs: the SL is a very, very responsive animal.
The SL launches with three native lenses – the aforementioned 24-90/2.8-4 ASPH, 50/1.4 ASPH, and a 90-280/2.8-4 APO. These are complex (the 24-90 is an 18/15 design, and the 90-280 is no less than 23/17) and large optical designs: all have optical stabilisation, 82mm front filters, and honestly seem closer to medium format glass in size than FF35. They are large lenses, and this is from somebody who's used to Zeiss Otuses. Some will complain about maximum aperture, but the reality is f2.8 is fast enough for most uses and offset by the stabilisers and a sensor that's pretty good at higher sensitivities. F4 keeps size somewhat sane, though we're still talking in the 1kg range – even for the 50/1.4. I suspect the T stops of the zooms to be more like f4-5 with that many elements, however.
Many of you will know I'm a big fan of the Nikon 24-120/4 VR for its versatility – if you don't need the speed and can find a good sample (it is yet another complex 17/13 design, leading to massive sample variation) it can actually cover almost all practical requirements. It's also a very flexible choice for travel since weight is kept low, and it can be paired with a fast prime (or a Q) for low light work. I'd say the same is true here of the 24-90 – it's versatile, fast, and sufficient. Mechanical quality is excellent, with well-weighted controls and smooth travel. The one thing I didn't like was the fly by wire focusing ring with no depth of field scales or hard stops  – especially given the excellent MF implementation on other recent AF Leicas – but I suppose this is partially outweighed by the focus limit information shown on the top panel.
Optically, it's also quite solid. Despite the number of elements, one has to try very hard to make the lens flare. The wide end is outright impressive: microcontrast is good and resolving power is high across the frame at all apertures; there is almost no improvement from f2.8 to f8. The telephoto end is a very mixed bag. I experienced serious forward focus shift when stopping down* – with worst results at the 90mm end – resulting in much softer images than expected (not reflected on the top panel info). This does not help matters because though the centre is strong at f4, you really need to stop down to bring the corners to match. In addition, the telephoto end somewhat lacks bite – I suspect this has something to do with the number of elements. I can only hope this behaviour is attributable to the lens being a preproduction unit. Otherwise, there was little lateral or longitudinal chromatic aberration (software correction, perhaps?), and mostly smooth out of focus areas. IS worked well (and it would be nice to have a 1/0.5x option for auto-ISO to take advantage of this, not just 1/1x and 1/2x) though it seemed somewhat less effective in portrait orientation than landscape. I wonder if this is evidence of shutter vibration. Additionally, there was evidence of blooming under strongly backlit situations (though without visible chromatic aberration).
*Lloyd Chambers reports he has found the same behaviour on his copy, too.
Focus shift update, 18 December 2016: This camera was first tested in October 2015. At that point, all samples clearly demonstrated the problem (which may have been due to AF or focus shift, but it was impossible to tell with the behaviour of that firmware). It was retested in early 2016 with several cameras and lenses supposedly handpicked by Leica and a beta version of FW2.0 – same behaviour. People on the various fora report that they can't reproduce the test with current firmware and hardware, and therefore I must be wrong, a bad tester, a paid brand shill (even though the test predated any agreement with any company), a liar, the devil incarnate – it's also possible that following my test report to Leica HQ, the problem was simply fixed. This whole saga smells the same as the D800's focus asymmetry and the E-M1's shutter shock, both eventually confirmed and remedied by the manufacturers – to the benefit of all users. A simple thank you would do. All I'm reporting is that at the time of both tests, it was a problem. People are finding that it's not anymore, and it may well have been fixed, but I have no way of confirming this. 
The 24-90 will be the only native lens available for at launch – I did not get a chance to try the 90-280 or 50/1.4 – since the former is to be available at the end of the year and the latter in 2016. You can of course adapt lenses from other systems to it via the adaptors released for the T, and these are likely to be much better balanced. I honestly didn't think the camera balanced that well with the 24-90, which is probably down to the profile of the handgrip as much as anything. I can only imagine the 90-280 (apparently larger than the Nikon AFS 80-400G VR II) is going to be even more challenging; both really need tripod collars.
The SL uses a derivative of the Q's 24MP full frame AA-less CMOS sensor and an added ultrasonic sensor cleaner, and the same MAESTRO II imaging pipeline. I used my Q profile with the camera and got results that required little further calibration. The ISO 50 setting is new – and does not seem to impart any discernible dynamic range penalty, which makes me think it is native. It is also beautifully smooth and as close to completely noise free as I've seen from any camera. Image processing appears to have been further refined as the high end is half a stop to a stop cleaner than the Q, and the SL appears to lack the trace banding at higher ISOs or pushes which is sometimes present on the Q.
Other than that – tonal response and image quality is much the same, and has probably been tweaked this way deliberately. Everything I wrote about the Q's image quality is true here, plus a little more. The camera retains tonality and color well into the higher sensitivities; 6400 is very usable, and perhaps 12500 in emergencies – we start to see magenta pollution in the shadows at this point. I think the D750 still edges out the SL slightly at higher ISOs, but it's very, very close. But the D750 won't shoot 11fps, 4K30 or 1080p120 – but I suppose it doesn't cost the better part of $7,500, either.
Despite all of the horsepower and the massive amount of data being shunted around, plus the readout speed/refresh rate of the sensor and displays – the SL still manages a very respectable 700+ shots/charge in single shot mode, which is similar to my experience with the Q and light years better than the A7RII. Whatever tricks Leica have employed in power management are evidently working, and working well. I'd be comfortable with two batteries for a day of shooting – and could probably manage with one.
It is an interesting time to be a photographer. We have an embarrassment of hardware riches, all accessible to the working pro or the reasonably affluent amateur. There is the all-rounder Nikon D810, the resolution-champ Canon 5DSR, the tech-heavy Sony A7RII, medium-format-on-a-budget Pentax 645Z and now the Leica SL. You're looking at a similar financial outlay to make a meaningful system of any of these cameras – remembering you will also need a complementary lens system, support and shot discipline to make the most of the cameras' capabilities. I guess I am probably one of the few people who has shot seriously with each of these for long enough and under a sufficiently diverse range of circumstances to be able to make a meaningful comparison. Each also has an ironic clear weakness that might be a deal breaker for you: the DSLRs are difficult to use with manual focus lenses (they also have the most legacy glass); the Sony is somewhat lethargic, and eats batteries for breakfast negating its size advantage; the Pentax is really only for static or slow subjects and is a bulky beast, and the SL is both expensive and will be resolution limited for printing compared to the rest – there is a signifiant difference between 24 and 36 MP – let alone 50 – under ideal conditions.
Yet they are also so good at certain things that I wish I could have all of them for when the occasion requires it: there are definitely certain circumstances where one holds an advantage over the rest. The DSLRs are best for moving subjects and overall responsiveness; the mirrorless cameras work best with manual lenses and live view. The Canon and Pentax hold the resolution advantage for printing; the Canon probably has the best ergonomics of the bunch; the Nikon has the most natural/pleasing tonal rendition and the widest dynamic range – though the Pentax wins on overall absolute sensor image quality, it's let down somewhat by the lenses; the Sony is best for manual lenses because of the stabiliser. The SL is the most responsive of the mirrorless bunch and loses nothing to the DSLRs, but has some ergonomic and firmware quirks that take some getting used to – but also some advantages, too.
The SL is not a cheap camera – EUR6,000+ for the body and a further EUR4,000+ for each lens makes this the preserve of the very wealthy, though in reality I suspect most of Leica's existing audience will see this one as a no-brainer. M lenses are now virtually native, as are R lenses; they're easy to focus and image quality is better than from the M cameras. It would have been nice to see more resolution, but I suspect this might have eaten uncomfortably into S system sales. I actually suspect this camera is the beginning of the end of the M resurgence – a typical complaint from M users I know is one of deteriorating eyesight and difficulty in achieving focus. We no longer have that problem. And for those used to paying $7,000+ for a body, the SL isn't a stretch at all.
I admit I find myself somewhat conflicted with the SL: with a few firmware tweaks (fast exposure compensation mainly) and a chunkier handgrip, this camera would be pure joy to shoot. Even so, it still shows the way to the competition in many areas; the tricky question is one of relative value. I think it boils down to how much the shooting experience is worth to you, and whether the SL specifically works for you. Even though we had some clues as to what was coming, the SL takes it a step further, and feels like a next generation product – the Japanese brands are going to have to start playing catch up. After some expensive but niche (and occasionally flaky) product, Leica seem to have found their mojo again first with a Q, and now the SL – and are offering something that's not just different, but genuinely better. Just like with the Q, my suspicion is they're going to have problems making enough of them for the foreseeable future. MT
My thanks go to Leica Asia Pacific for making an advance unit available. As usual, enquiries should be directed to Johann Affendy at Leica Malaysia. The Leica SL (Typ 601) and lenses are available to pre-order here from B&H.
__________________
I have a place available for the Tokyo Masterclass (9-14 November) at a special price. Please send me an email for to book and for details…
__________________
Visit the Teaching Store to up your photographic game – including workshop and Photoshop Workflow videos and the customized Email School of Photography; or go mobile with the Photography Compendium for iPad. You can also get your gear from B&H and Amazon. Prices are the same as normal, however a small portion of your purchase value is referred back to me. Thanks!
Don't forget to like us on Facebook and join the reader Flickr group!
Images and content copyright Ming Thein | mingthein.com 2012 onwards. All rights reserved