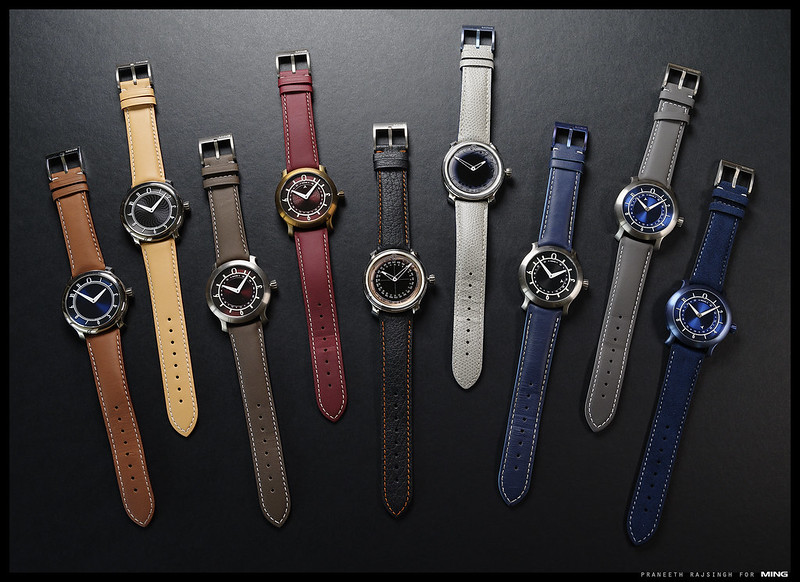 The MING family, as of March 2019
It's a fair question, and one I've been asked frequently enough to properly explain myself somewhere, for the record. I suppose it isn't just something you pick up on a whim one day, nor is it something that even if you had a burning desire to do – can easily begin by submitting a CV to a headhunter. Watchmaking, in its purest definition, is a vocation – not a profession. You physically have to make something, and in the process of doing so (from scratch, of course) understand everything from engineering to metallurgy to physics to aesthetics. It is the kind of masochistic intellectual pursuit undertaken successfully by only the most dedicated, the most skilled, or the most masochistically insane. I am not a watchmaker in the pure definition, nor am I dextrously skilled, but I am fairly dedicated and probably also insane. After all, eight years ago (has it been that long?) I did quit the top of the corporate game to start all over again as a photographer. And now, not having learned my lesson, history repeats.
Many of you will have noticed that I am slowly winding down my photographic activities; there are several reasons for this. Firstly, the market is changing yet again – both for purely commercial work, for education, and also for the hardware side. It seems that the camera makers are content to continue driving themselves into a repetitive (and unprofitable in an oversaturated market) cycle. There is only so much 'more' people can use – and more importantly, justify paying for – without other investments in both ability/skill and UI etc. The writing has been on the wall for some time, but there are limits to what one person can do without resorting to being sensationalist – which I refuse to do. Instead I choose to stick to my philosophy (it's about the image, first and foremost, and everything else is merely a means to get there), shoot and write as I choose, and photograph for clients who appreciate this. I am fortunate to be able to do so. And I'm more fortunate to have a few things to keep me intellectually and creatively occupied.

Ochs und Junior x MING Celestial
Horology is really a homecoming of sorts for me. In a nutshell, an interest in things mechanical and the desire to buy a 'nice' watch (how relative I would learn that term is!) lead to research and the quick realisation that the pieces I liked I would never have any hope of affording unless I got extremely lucky. But the accumulation of knowledge has always been much cheaper, if not downright free. I learned everything I could about anything horological; focusing on the movements, complications and mechanical side of things before giving a second thought to the aesthetics – at the time I thought many had done it better and more coherently already. And my preferences were strongly influenced by my favourite brands of the time, leading to rather derivative looking attempts at designing things. I'm sure those early movement attempts had more than their fair share of flaws and wouldn't have any hope in running; often I'd realise this before completing the drawings (yes, pen and tracing paper back then).
In parallel, I met some very nice people on the internet that were as crazy about watches as I was; the movers and shakers of the watch world in 2019 all occupied one little corner of the internet in 2001, and I remember meeting them in person in various events around Europe in those years. Fortunately, I was living in London at the time which made access much easier. Whilst I still felt massively out of place financially at those gatherings – I remember making excuses for more than one dinner, being on a student or lowly audit junior budget – at least I could hold my own on the knowledge front. There was also the inspiration of several other fellow collectors who were photographing their own pieces for various reasons – and kind enough to lend them to me to photograph, too. In this way I was able to experience a watch and take away a small slice of my own impressions for posterity. Perhaps not the full experience of ownership, but at least something to visually remember the piece by. This would later turn into the foundations of my photography career and mark the first loop of the cycle – watches > photography > corporate > photography.

Ochs und Junior x MING Simpleton
The keyword here is 'visual': I guess this is the way my brain works; everything translates or decomposes into patterns, shapes, colors, luminosity. I of course had to try to design my own and see if I could do better – at least according to my preferences – with the little knowledge I had. A movement may be mechanically superb, but if it's visually boring, I'd rather have an interesting solid caseback. 'Interesting' also doesn't necessarily mean complex: this took me some time to learn, too. One's initial desires as a collector do not necessarily stay; we are swayed and drawn by the iconic pieces, then the 'something different', then the complex, and at that point you're in to commissioning piece uniques. Not everybody makes it this far, of course – you need to have a certain level of income to climb the ladder.
Two important things here: firstly, if you look hard enough, there are watches that fill all of those categories at every price point. A new, modern grand complication wristwatch will set you back six figures or more (the currency doesn't even matter at this point) – but back then, a little hunting would yield the same things in a pocket watch, quite possibly better finished and certainly larger and easier to appreciate – in the low thousands. The options have only gotten even greater in recent years with the rise of the microbrand and internet retail. Secondly, assuming you make it through a few steps of the cycle – you find that increasingly bigger infusions of horology are required to keep the passion going. No longer are we content to be invited to a cocktail night at a boutique but we must go visit the independent watchmaker's atelier, examine the screws under a microsurgical microscope and choose the cows used to make our straps.

The debut: 17.01, August 2017
There is of course a certain fatigue that sets in after a while, not to mention either financial ruin or the frustration of watching but being unable to take part (for the same reasons of impending financial ruin). In the meantime, I'd stopped shooting watches professionally because I found it was starting to severely reduce my enjoyment of the hobby. Rare pieces that would appear once in a blue moon at collectors' gatherings that would trigger drooling anticipation were now presented in every variant on a tray, to be 'front side back 3/4 views, thank you'. I went to a watch show in Asia in 2014 as the guest of a friend (and serious collector) who was there to investigate a potential heavy purchase, along with a few other friends who accompanied him for moral support (and to eat the beef noodles). We left somewhat disillusioned by the (lack of) quality service, the pretentiousness and well, the feeling that even entry level watches were just starting to become silly money. Case in point – in 2002, a decent used Submariner or Speedmaster could be had for a little over a thousand dollars. A new entry level Patek or Lange, or a complicated JLC, was perhaps five thousand, and that already felt like silly money. Add twelve years – and multiply everything by five or more. Inflation exists, but not at 15% per annum.
I realise this turned into a very, very long read, so we shall split it into a second part. To be continued in the next post…
__________________
MING watches are available exclusively online from us directly at www.ming.watch
__________________
Visit the Teaching Store to up your photographic game – including workshop videos, and the individual Email School of Photography. You can also support the site by purchasing from B&H and Amazon – thanks!
We are also on Facebook and there is a curated reader Flickr pool.
Images and content copyright Ming Thein | mingthein.com 2012 onwards unless otherwise stated. All rights reserved