Pentax 645Z with L bracket on Gitzo 1542T and Arca-Swiss P0.
Chances are, a tripod is actually one of the first bits of gear you got at the start of your photographic journey: they're usually given away free with DSLR 'kits' as 'value added' freebies (you're actually charged for them, of course). Like most people, you probably even carried it with you on every photographic excursion for a while, and then eventually got lazy or frustrated with it and gave up. At that point, you probably also wouldn't have been able to tell the difference between a good tripod and head and a poor one. I'm fully guilty of this, of course. I even bought my tripod – a relatively cheap Velbon thing for all of about $60 that included a head, and was light and relatively small but tall enough to be reasonably ergonomic and not induce too much back pain – jackpot! Of course, I would later learn that the only thing that's worse than no tripod at all is a bad tripod.

Below the Horzion, 245s, 135mm equivalent, windy. RRS 33 and Arca-Swiss P0
With no tripod you have no expectations of being able to get the kinds of images that demand long exposures or stability and longer lenses. And you don't try, or try half-heartedly and don't feel bad when the experiments turn out to be disappointments. With a bad tripod, you'll think you got the shot, only to go home and discover when viewing on a computer that everything was quite a bit softer than you expected – except you can't really figure out why, and believe it's merely a consequence of long exposures. It isn't. I don't think I need to explain why this can be incredibly discouraging.
A quick note: when I refer to a 'tripod' in this article, unless stated explicitly ('legs') I'm referring to the whole combination of both legs and head. In general, be wary if they come together as a package.

Kawarau Lodge, 30s, 19mm equivalent. Gitzo 1542T and Arca-Swiss P0.
It's probably also obvious why you'd need a tripod in the first place: longer exposures than you can handhold for a given focal length (which may well reach into the daylight regions with lenses that are very long, e.g. for birding, sport or wildlife); precision framing and alignment (e.g. product, architecture, anything that needs compositing or stitching); ultimate image quality without having to raise the ISO. They're also of course useful when the weight of the camera exceeds what one can reasonably handhold or carry.
Using a tripod is not fast. No matter how well designed the hardware, it will never be as fast as simply raising the camera to your eye to take a shot. For the greater part of the early history of photography, a tripod was not even an option under most circumstances: films simply were not sensitive enough to work handheld, or there was an enormous penalty in image quality. And some types of cameras – view cameras, specifically – are just not conducive to be used handheld. Consequently, early images felt static and staged because they were static and staged; they had to be. A lot of landscapes were shot because it was easier to deal with something that didn't move than explosive magnesium flash cubes. Later on, a great liberation came with faster emulsions and smaller hardware – we saw the rise of documentary and reportage work because the camera was small and stealthy enough not to be noticed, at least relative to the previous hardware. I suppose the closest analog of this now is the ubiquitous cameraphone compared to a DSLR.

Kuala Lumpur skyline after midnight, 30s, 8-image stitch at 165mm. RRS 24L and Arca-Swiss Cube
But it's also worth noting that for all of the staticness of the early photographs, they also had a couple of things in their favour: very careful control over light, composition and depth of field, and an overall sense of precision and 'just-so-ness' to them which got lost somewhere along the line in the search for grit. I suspect there are a couple of reasons for this: firstly, photography back then was an expensive and time consuming process, and you made damn sure that whatever it is you were photographing was worth photographing, and secondly, the act of working with a tripod forces you to slow down. And slowing down gives you thinking time; time to rearrange things, move your position, think about precisely where you want your focal plane, and wonder if the light might be better in an hour. This is almost entirely lost today. How often do we stop and really work a scene, to derive one perfect image rather than a whole bunch that we won't be able to remember individually because they're all not quite distinct and not quite there?

Under the tracks, 1/15s at 400mm equivalent. RRS 24L and Arca-Swiss Cube
I see this a lot in the reader flickr pool: there are often people who submit three or four variations of the same image and expect me to do the curation. The trouble is, there usually isn't a single one that stands out and just 'works' given the information you have about the scene; every image usually has something about the composition or exposure that can be exposed and perfected. I always can't help but think that slowing down during the process could avoid this, and a double check of curation afterwards would make doubly sure.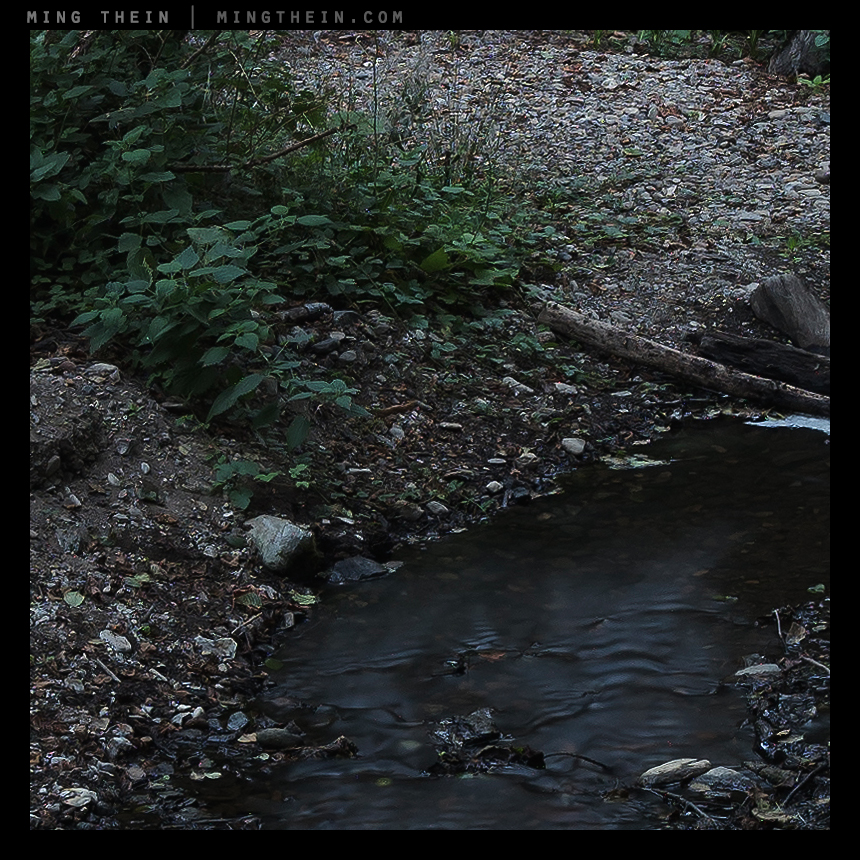 Still creek redwoods, 359s at 24mm, after sunset with tilt and shift. Gitzo 1542T and Arca-Swiss P0.
The best thing is that all of these benefits apply regardless of the size of your camera: you'd be surprised just how good some compacts are if you really try to get every last bit of image quality out of them (shoot at base ISO, NR off, lock focus, optimum apertures, stable tripod). Especially if your exposure fits within the dynamic range of the camera – chances are it'll be exceedingly difficult to tell the difference between a compact and a larger sensor of similar pixel count.

Redwood grove, 30s, 3-image stitch at 45mm with tilt and shift. Gitzo 1542T and Arca-Swiss P0.
The reason I've picked the example images in this article is to show you what can be done with a good tripod and head – the camera doesn't matter; think of it as affecting only resolution and field of view (through lens choice). What you should be looking at are a) the acuity and level of detail of the 100% crops, b) the shutter speed and focal length combinations, and c) the conditions under which the images were shot. Obviously, wind affects things significantly. Could I have done it with lesser equipment? Debatable, actually. Sometimes there are no free lunches and no way to make up for technical deficiencies with your own technique; there's simply no way to make a bad tripod not transmit vibration or sway in the wind.

Occluded observation, 80s at 24mm with tilt and shift, very windy. RRS 33 and Arca-Swiss P0
Technique and achieving ultimate image quality aside, I think using a tripod is really about two things: firstly, forcing you to slow down and think (with the attendant benefits of creativity and coherence of composition), and secondly, enabling the production of what you cannot see: it's usually a length of exposure or quantity of light thing, but it can also be angle of view related. It should really be seen as a creative device and not merely a technical one. I highly encourage you to use a tripod, plus your imagination, to see what you can produce. MT
Part two of this article will continue to good tripod technique, how to pick one, and some recommendations.
__________________
Take your photography to the next level: 2015 Masterclasses now open for booking in Prague (9-14 Mar 2015) and Lucerne (17-22 Mar 2015)
__________________
Limited edition Ultraprints of these images and others are available from mingthein.gallery
__________________
Visit the Teaching Store to up your photographic game – including workshop and Photoshop Workflow videos and the customized Email School of Photography; or go mobile with the Photography Compendium for iPad. You can also get your gear from B&H and Amazon. Prices are the same as normal, however a small portion of your purchase value is referred back to me. Thanks!
Don't forget to like us on Facebook and join the reader Flickr group!
Images and content copyright Ming Thein | mingthein.com 2012 onwards. All rights reserved